One major theme of the readings from today's Mass (16th Sunday in Ordinary Time) is that God's care for us can be likened to that of a good Shepherd.
A good shepherd leads his sheep to where they can find food and shelter, he takes care of all their needs, protects them from dangers, and goes to bring back sheep that have wandered away and gotten lost.
Responsorial Psalm from today's Mass readings:
The Lord is my shepherd, I lack nothing.
2 He makes me lie down in green pastures,
He leads me beside quiet waters,
3 He refreshes my soul.
He guides me along the right paths
for His Name's sake.
4 Even though I walk
through the darkest valley,[a]
I will fear no evil,
for You are with me;
Your rod and Your staff,
they comfort me.

You prepare a table before me
in the presence of my enemies.
You anoint my head with oil;
my cup overflows.
6 Surely Your goodness and love will follow me
all the days of my life,
and I will dwell in the house of the Lord
forever."~Psalm 23
Another example from the Old Testament:
11 "For thus says the Lord God: Behold, I Myself will search for My sheep, and will seek them out. 12 As a shepherd seeks out his flock when some of his sheep[b] have been scattered abroad, so will I seek out my sheep; and I will rescue them from all places where they have been scattered …"~ Ezekiel 34:11-12
Jesus came to earth to save mankind
Jesus, who is God the Son, came to earth precisely to save mankind which had strayed from God. The name Jesus means "God saves."
Upon the conversion of the tax collector Zaccheus, Jesus said to him, "Today salvation has come to this house … 10 For the Son of man came to seek and to save the lost."~Luke 19: 9-10
After His public ministry of teaching, healing, and forgiving sins, Jesus was crucified, died, and gloriously rose again. Through Jesus' suffering and death, Jesus offered Himself in sacrifice for the forgiveness of our sins. By sacrificing Himself and rising again, Jesus made a way for a lost mankind to come back to God the Father.
Jesus says:
"14 I am the good shepherd;[a] I know my own and my own know Me, 15 as the Father knows Me and I know the Father; and I lay down My life for the sheep. … 17 For this reason the Father loves Me, because I lay down My life, that I may take it again. 18 No one takes it from Me, but I lay it down of My own accord. I have power to lay it down, and I have power to take it again; this charge I have received from My Father."[b]John 10: 14-18
The Good Shepherd and The Holy Mass
During the Last Supper, Jesus Himself instituted the Holy Mass. During the Holy Mass, we are nourished by hearing the Word of God through the Bible readings as part of the Liturgy of the Word.
During the Liturgy of the Eucharist (the next part of the Mass), through the priest, Jesus makes present the Sacrifice of His death on the Cross and offers it to God the Father. Then, during Holy Communion, Jesus gives us Himself in the Holy Eucharist! The Most Holy Eucharist is truly His Body, Blood, Soul, and Divinity. Consequently, at every Mass, we have the opportunity to receive Jesus in Holy Communion as nourishment for our souls.
"… For My flesh is true food and My blood is true drink. 56 Those who eat My flesh and drink My blood abide in Me, and I in them. 57 Just as the living Father sent Me, and I live because of the Father, so whoever eats Me will live because of Me. …the one who eats this bread will live forever." ~John 6: 55-57,59
How else does Jesus, the good Shepherd, work in our lives today?
27 My sheep hear My voice, and I know them, and they follow Me; 28 and I give them eternal life, and they shall never perish, and no one shall snatch them out of My hand. ~John 10: 27-28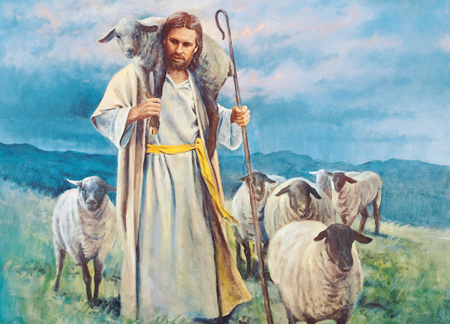 Jesus loves us. Consequently, He is always seeking to draw us closer to Himself. He guides us throughout our lives. Whenever we stray, He goes to bring us back. Whenever we feel weak, tired, overwhelmed, discouraged or heartbroken, He carries us as a Shepherd carries a lamb on His shoulders. He promises to take care of us during our life on earth and ultimately to give us eternal life with Him in Heaven.
On our part, we grow in holiness by obeying Him (i.e. following the Commandments and Church teachings), trusting Him, listening to Him, and growing closer to Him through daily prayer, the Sacraments (i.e. frequent Confession), and the Holy Eucharist (i.e. Mass, Holy Communion, Eucharistic Adoration). As wise sheep stay close to their shepherd, we must stay close to Jesus.
When we turn away from God by committing sin- especially mortal sins, we are putting ourselves in serious danger. Close to the Shepherd, sheep find safety, but far from the shepherd, the sheep can get lost, hurt, or even eaten by other wild animals like wolves. Similarly, when we stray from God, it is easier for the evil one to deceive us and to try to lead us to eternal destruction in hell. If we realize that we are far from God, let us call to Him right away for help through prayer and seek His forgiveness in the Sacrament of Penance (Confession).
May we follow Jesus the Good Shepherd all the days of our lives that we may dwell in the house of the Lord forever!
**Hymn: "The King of Love my Shepherd is" (inspired by Psalm 23)