One major theme of the read­ings from today's Mass (16th Sun­day in Ordi­nary Time) is that God's care for us can be likened to that of a good Shepherd.
A good shep­herd leads his sheep to where they can find food and shel­ter, he takes care of all their needs, pro­tects them from dan­gers, and goes to bring back sheep that have wan­dered away and got­ten lost.
Respon­so­r­ial Psalm from today's Mass readings:
The Lord is my shep­herd, I lack noth­ing.
2     He makes me lie down in green pas­tures,
He leads me beside quiet waters,
3     He refreshes my soul.
He guides me along the right paths
    for His Name's sake.
4 Even though I walk
    through the dark­est val­ley,[a]
I will fear no evil,
    for You are with me;
Your rod and Your staff,
    they com­fort me.

You pre­pare a table before me
    in the pres­ence of my ene­mies.
You anoint my head with oil;
    my cup over­flows.
6 Surely Your good­ness and love will fol­low me
    all the days of my life,
and I will dwell in the house of the Lord
    for­ever."~Psalm 23
Another exam­ple from the Old Testament:
11 "For thus says the Lord God: Behold, I Myself will search for My sheep, and will seek them out. 12 As a shep­herd seeks out his flock when some of his sheep[b] have been scat­tered abroad, so will I seek out my sheep; and I will res­cue them from all places where they have been scat­tered …"~ Ezekiel 34:11–12
Jesus came to earth to save mankind
Jesus, who is God the Son, came to earth pre­cisely to save mankind which had strayed from God. The name Jesus means "God saves."
Upon the con­ver­sion of the tax col­lec­tor Zac­cheus, Jesus said to him,  "Today sal­va­tion has come to this house … 10 For the Son of man came to seek and to save the lost."~Luke 19: 9–10
After His pub­lic min­istry of teach­ing, heal­ing, and for­giv­ing sins, Jesus was cru­ci­fied, died, and glo­ri­ously rose again. Through Jesus' suf­fer­ing and death, Jesus offered Him­self in sac­ri­fice for the for­give­ness of our sins. By sac­ri­fic­ing Him­self and ris­ing again, Jesus made a way for a lost mankind to come back to God the Father.
Jesus says:
"14 I am the good shep­herd;[a] I know my own and my own know Me, 15 as the Father knows Me and I know the Father; and I lay down My life for the sheep.  …  17 For this rea­son the Father loves Me, because I lay down My life, that I may take it again. 18 No one takes it from Me, but I lay it down of My own accord. I have power to lay it down, and I have power to take it again; this charge I have received from My Father."[b]John 10: 14–18
The Good Shep­herd and The Holy Mass 
Dur­ing the Last Sup­per, Jesus Him­self insti­tuted the Holy Mass.  Dur­ing the Holy Mass, we are nour­ished by hear­ing the Word of God through the Bible read­ings  as part of the Liturgy of the Word.
Dur­ing the Liturgy of the Eucharist (the next part of the Mass), through the priest, Jesus makes present the Sac­ri­fice of His death on the Cross and offers it to God the Father. Then, dur­ing Holy Com­mu­nion, Jesus gives us Him­self  in the Holy Eucharist! The Most Holy Eucharist is truly His Body, Blood, Soul, and Divin­ity. Con­se­quently, at every Mass, we have the oppor­tu­nity to receive Jesus in Holy Com­mu­nion as nour­ish­ment for our souls.
"… For My flesh is true food and My blood is true drink. 56 Those who eat My flesh and drink My blood abide in Me, and I in them. 57 Just as the liv­ing Father sent Me, and I live because of the Father, so who­ever eats Me will live because of Me. …the one who eats this bread will live for­ever." ~John 6: 55–57,59
How else does Jesus, the good Shep­herd, work in our lives today?
27 My sheep hear My voice, and I know them, and they fol­low Me; 28 and I give them eter­nal life, and they shall never per­ish, and no one shall snatch them out of My hand. ~John 10: 27–28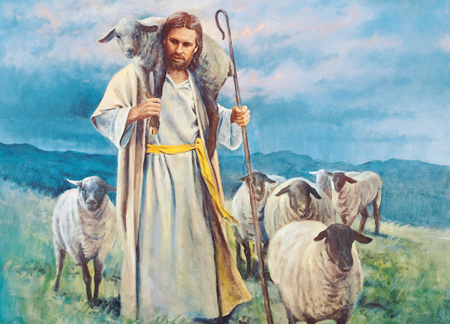 Jesus loves us. Con­se­quently, He is always seek­ing to draw us closer to Him­self. He guides us through­out our lives. When­ever we stray, He goes to bring us back. When­ever we feel weak, tired, over­whelmed, dis­cour­aged or heart­bro­ken, He car­ries us as a Shep­herd car­ries a lamb on His shoul­ders. He promises to take care of us dur­ing our life on earth and ulti­mately to give us eter­nal life with Him in Heaven.
On our part, we grow in holi­ness by obey­ing Him (i.e. fol­low­ing the Com­mand­ments and Church teach­ings), trust­ing Him, lis­ten­ing to Him, and grow­ing closer to Him through daily prayer, the Sacra­ments (i.e. fre­quent Con­fes­sion), and the Holy Eucharist (i.e. Mass, Holy Com­mu­nion, Eucharis­tic Ado­ra­tion). As wise sheep stay close to their shep­herd, we must stay close to Jesus.
When we turn away from God by com­mit­ting sin– espe­cially mor­tal sins, we are putting our­selves in seri­ous dan­ger. Close to the Shep­herd, sheep find safety, but far from the shep­herd, the sheep can get lost, hurt, or even eaten by other wild ani­mals like wolves. Sim­i­larly, when we stray from God, it is eas­ier for the evil one to deceive us and to try to lead us to eter­nal destruc­tion in hell.  If we real­ize that we are far from God, let us call to Him right away for help through prayer and seek His for­give­ness in the Sacra­ment of Penance (Confession).
May we fol­low Jesus the Good Shep­herd all the days of our lives that we may dwell in the house of the Lord forever!
**Hymn: "The King of Love my Shep­herd is" (inspired by Psalm 23)